Crawl Space Encapsulation in Boxborough, MA
According to the EPA, up to 50 percent of your home's airflow comes from the crawl space. However, because these spaces are in such close proximity to the ground, they can easily hold moisture. As a result, your home can be at risk of standing water, pest infestation, and mold, leading to poor indoor air quality throughout the home.
At LeBlanc Basement Waterproofing, we offer crawl space encapsulation–a covering of heavy-duty seals and vapor barriers to protect your home's foundation. The best way to ensure the safety and comfort of your home is by proactively encapsulating your crawl space. With our encapsulation and basement waterproofing solutions, you can prevent moisture, avoid flooding, and improve air quality for years to come.
Our Process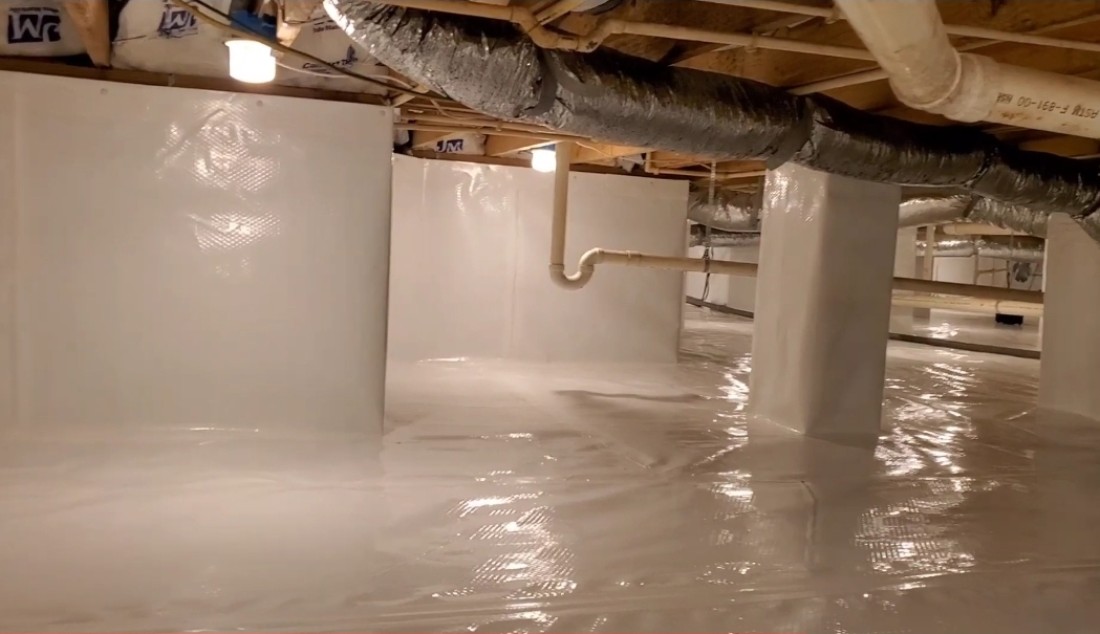 When investing in an encapsulation project, it's essential to partner with experienced crawl space contractors who know how to efficiently handle the issues commonly found in New England. At LeBlanc, we start by assessing your needs and verifying that encapsulation is an appropriate solution for your home. Then, we address any current issues that have arisen in the crawl space, such as water leaks, drainage issues, mold, or flooding.
We begin our new waterproofing installation only after assessing your property thoroughly and addressing current issues. Our team's years of experience and training allow us to quickly diagnose problems while proposing solutions that are right for you.
Get In Touch
Crawl Space Encapsulation FAQs
What are the benefits of crawl space encapsulation?
First, encapsulation safeguards your home against water damage. This process also lowers moisture levels, eliminates insects, completely eliminates mold and mildew growth, and prevents structural damage. Additionally, crawl space encapsulation improves energy efficiency, heightens air quality, enhances comfort, and can even increase the value of your home.
What is crawl space repair?
If proactive measures are not taken for a crawl space, it can be at risk for flooding water damage and rotting of the wood underneath the first floor of your house causing structural damage. As a result, crawl space repair would address cleaning, waterproofing, ventilation, dehumidification, and more. Additionally, your basement may need drainage systems such as a sump pump or French drain. At LeBlanc, we're highly trained and qualified to address any
foundation repair issues
you may encounter.
Do I need a crawl space dehumidification system?
Yes, your crawl space is a non-conditioned space and is at the mercy of your climate. Moisture can build-up inside the crawl space from duct-work condensation, ground moisture evaporation, high outdoor humidity, and more. The
dehumidifier
is needed to condition the crawl space and ensure healthy humidity levels are kept all year.